JBL Professional - Professional speakers for installed, cinema, broadcast, touring and live PA applications for over 70 years.
599.00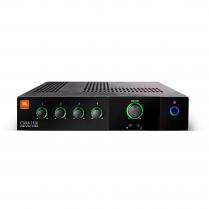 JBL CSMA1120 120W Commercial Mixer-Amplifier
SKU CSMA1120
$931.04
$599.00
599.00
The JBL® CSMA1120 is a highly efficient 4-input mixer amplifier with a single 120W speaker output at either 8/4Ω or 70V. The CSMA1120 utilized HARMAN's DriveCore™ technology to provide the needed output power at up to 80% more efficiency than conventional designs.
read more

▼