Simplified packages to get background music and/or paging into your business.
As one of Missouri's largest commercial A/V contractors, the experts at ProAudioSuperstore.com know a thing or two about background music and paging sound systems. We have designed and installed literally thousands of commercial sound systems*. From simple two or three room offices, to multi-floor complexes, we've done it all. ProAudioSuperstore.com have taken that knowledge and experience and condensed it down into simple office sound system packages.
Developed with the small business owner in mind, these office sound system packages are some of our most popular products and contain everything you need to have a reliable sound system in your professional office, gym, or any other business space. We can change the package to meet your office configuration. Don't think this is the only way it can be done. Feel free to call or email us to discuss changes to meet your need.
These kits include factory new items and are covered by all applicable manufacturer warranties.
549.00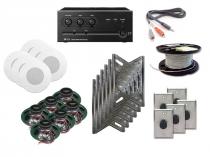 Dentist Office PA Package 2
SKU DENOFFPA2
$899.00
$549.00
549.00
A Do-It-Yourself kit for a small dentist office when you would like to provide your own music source for basic background audio purposes. This package is for the budget-minded customer where sound quality is not a priority.
read more

▼
* ProAudioSuperstore.com provides free technical support for any systems or components we sell. However, these kits DO NOT INCLUDE INSTALLATION OR DESIGN SERVICES of any kind. They are intended to be installed by the customer or a third party integrator. If you looking to have a PA system professionally installed in your business, please feel free to Contact Us for more information on which services are provided in your area.