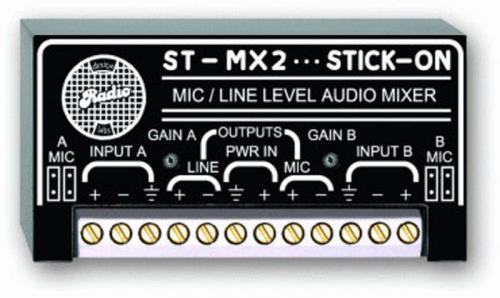 RDL ST-MX2 2 Channel Audio Mixer
RDL
$201.76
$169.22
169.22
The RDL ST-MX2 is a 2 channel audio mixer designed for any application that requires mixing two audio sources.
SKU STMX2
Authorized Dealer: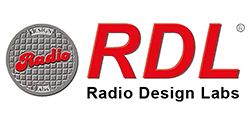 The ST‑MX2 is used in any application requiring mixing of two audio sources. A mic may be mixed with a line‑level music source. Two mics may be mixed to feed the mic or line level input of a power amplifier. A mic or professional +4 dBu line‑level mono sum is possible. It may be used to convert mono line‑level signals from consumer to professional, or from professional to consumer format. It may also be used as a microphone preamplifier, or conversely to adapt unbalanced or balanced line‑level signals into the microphone input of other equipment.
Features
Two Input Audio Mixer
Selectable Mic or Line Level Inputs
Simultaneous Mic and Line Outputs
Add Additional Inputs to an Existing Mixer
Audio Output Dual‑LED VU Metering
Balanced or Unbalanced Inputs and Outputs
Low‑Noise and Low‑Distortion Performance
** PS24A Active Power Supply for RDL components purchased separately **
FREE standard ground shipping on orders over $99 to the 48 contiguous states. See Terms and Conditions for full details and exemptions.
All products are covered by ProAudioSuperstore.com's 30-day Return Policy. See Terms and Conditions for full details and exemptions.
Warranty
New product. Includes standard 3-year manufacturer warranty.