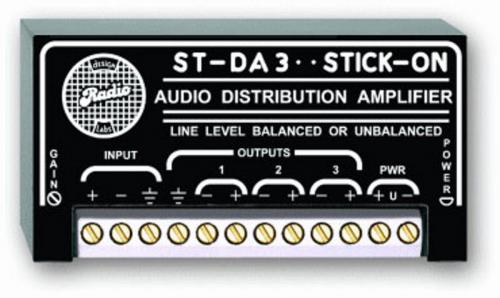 RDL ST-DA3 Line Level Distribution Amplifier
RDL
$208.61
$174.93
174.93
The RDL ST-DA3 is a line level distribution amplifier that is designed to go anywhere you need it to and provide pure clarity.
SKU STDA3
Authorized Dealer: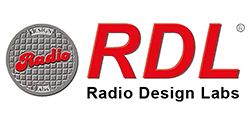 The ST‑DA3 allows bridging of any audio line, adjusting the gain, and driving up to three high or low impedance, balanced or unbalanced loads. The ST‑DA3's wideband circuitry produces the unsurpassed pure clarity, low‑distortion and low‑noise for which RDL products are known.
The ST-DA3 features RDL's SupplyFlex power input configuration. The module will operate directly from floating 24 Vdc or bipolar dc power.
RDL ST-DA3 Highlights Include:
Audio Distribution with up to 3 Outputs
Balanced or Unbalanced Input and Outputs
Bridge an Audio Line for Local Distribution
Distribution with Impedance Conversion
Distribution with Gain or Loss
Inputs and Outputs RF‑Protected
1x3 Mono or Use Two Units for Stereo
SupplyFlex™ Power Input Configuration
** PS24A Active Power Supply for RDL components purchased separately **
FREE standard ground shipping on orders over $99 to the 48 contiguous states. See Terms and Conditions for full details and exemptions.
All products are covered by ProAudioSuperstore.com's 30-day Return Policy. See Terms and Conditions for full details and exemptions.
Warranty
New product. Includes standard 3-year manufacturer warranty.