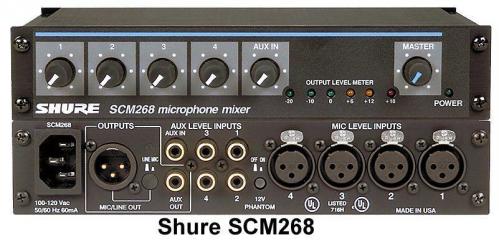 Shure SCM268 4-Channel Microphone Mixer
Shure
$331.00
$316.00
316.00
The Shure SCM268 is a 4-Channel Microphone Mixer. Six transformers provide protection from RF interference for exceptionally quiet performance in a straightforward mixer.
SKU SCM268
Authorized Dealer: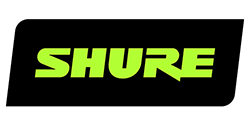 The SCM 268 features six transformers—four transformer balanced XLR microphone level inputs, one transformer balanced XLR mic/line output, and one internal low stray field, toroidal power transformer. All of these transformers provide protection from RF interference, prevent ground loops, and make the SCM 268 exceptionally quiet. The internal toroidal power transformer means you no longer have to deal with the annoying ""wall wart."" Add to this a rugged half-rack chassis with exceptionally solid rack mounting hardware.
Features
Five unbalanced aux level inputs (Phono connectors)
LED peak output meter
One unbalanced aux level output (Phono connector)
IEC power cord connector
12V phantom power for condenser microphones
Built-in low cut filters on mic inputs
Shure SCM268 Specs
Inputs
4 - Balanced XLR Microphone
2 - Stereo (L/R) RCA line inputs
Output
1 - Balanced XLR output (mic/line level)
1 - AUX unbalanced RCA Phono
Monitor/Headphone Out
No - AUX output serves as secondary output and cab be used as a monitor source
ALT I/O
2 - AUX RCA phono as described under outputs
Impedance
Input
MIC (XLR): Designed for use with 19-600 ohm load, 1.2k ohms actual, -5dBV clipping level
AUX: Designed for use with - / < 2k ohm load, 21k ohms actual, >28 dBV clipping level
Outputs
MIC: Designed for use with low-Z inputs, 0.2 ohms actual, -21 dBV clipping level
LINE: Designed for use with > 600 ohms, 72 ohms actual, +18 dBV clipping level
AUX: Designed for use with > 2k ohms, 870 ohms actual, +7dBV clipping level
Gain
Low-Impedance Mic Input (150 ohms): MIC 32dB, LINE 72dB, AUX 60dB - Outputs
Line Input: MIC -9dB, LINE 31dB, AUX 19dB - Outputs
Stereo Input: MIC -5dB, LINE 35dB, AUX 23dB - Outputs
Hum & Noise
Equivalent Input Hum and Noise: -124 dBV (150 ohm source; 22Hz to 22kHz)
Output Hum and Noise: (22 Hz to 22kHz; channel controls full counterclockwise)
Master full counterclockwise -92dBV
Master full clockwise -70dBV
Frequency Response
(Ref 1kHz, channel and master controls centered)
MIC/LINE Inputs: 150Hz to 20kHz + / - 2dB
AUX Inputs: 20Hz to 20kHz + / -2dB
Distortion
<0.25% at +4 dBu output level, (through 22Hz -22kHz filter; MIC inout 1 and Master at center, all other controls full counterclockwise)
Metering
6-segment LED meters
Controls
Sealed Rotary Potentiometers: MIC 1-2, STEREO 1-3 and MASTER gain controls. BASS and TREBLE control.
DIP Switches
Phantom Power
12 Vdc open-circuit through 340 ohm series resistors
Operating Temperature
Operating: -7 to 49 degrees C (20 to 120 degrees F)
Storage: -29 to 74 degrees C (-20 to 165 degrees F)
Power
SCM268: 100 - 120 Vac, 50/60 Hz, 60mA
SCM268E: 220 - 240 Vac, 50/60 Hz, 30mA
Dimensions
1.72 x 8.60 x 6.37 in. (43 x 218 x 162mm)
Weight
2.62 lbs (1.20 kg)
FREE standard ground shipping on orders over $99 to the 48 contiguous states. See Terms and Conditions for full details and exemptions.
All products are covered by ProAudioSuperstore.com's 30-day Return Policy. See Terms and Conditions for full details and exemptions.
Warranty
New product. Includes standard 1-year manufacturer warranty.