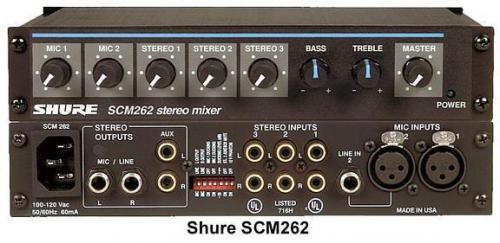 Shure SCM262 Stereo Microphone Mixer
Shure
$434.00
$310.00
310.00
The Shure SCM262 is a compact, easy to set up and use mixer with features that are customized for small installations, such as ducking, jukebox mute and 12v phantom power. Ideal for restaurants, health clubs, and paging applications.
SKU SCM262
Authorized Dealer: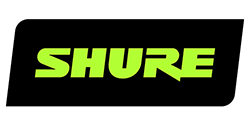 The Shure SCM262, one of the growing SCM mixer family, is the perfect choice for those smaller installations when you need to integrate your microphones and stereo equipment without paying for features you don't use. The SCM262 features defeatable ""ducking"", jukebox mute, and 12V phantom all in a compact, user-friendly package.
The SCM262 is designed with simplicity in mind and offers the particular features and benefits required by many smaller applications.
Features
Defeatable "ducking"
Jukebox mute
One active balanced XLR mic and 1/4 inch TRS line input channel
Three stereo input channels (Six phono connectors)
One unbalanced stereo output (Two 1/4 inch TRS connectors)
12V phantom power for condenser microphones
All in a half-rack chassis
Shure SCM262 Specs
Inputs
2 - Balanced XLR Microphone
1 - Balanced 1/4" Phone
3 - (L/R) Stereo RCA Phono
Output
2 - (L/R) Stereo Mic/Line switchable 1/4" Phone
2 - (L/R) Stereo AUX unbalanced RCA Phono
Monitor/Headphone Out
No - AUX output serves as secondary output and cab be used as a monitor source
ALT I/O
2 - AUX RCA phono as described under outputs
Impedance
Input
MIC (XLR): Designed for use with < 600 ohm load, 1.4k ohms actual, -16dBV clipping level
LINE: Designed for use with < 10k ohm load, 155k ohms actual, +24 dBV clipping level
STEREO: Designed for use with < 2k ohm load, 21k ohms actual, > 28 dBV clipping level
Outputs
MIC: Designed for use with > 600 ohm load, 3 ohms actual, -22 dBV clipping level
LINE: Designed for use with > 5k ohms, 300 ohms actual, +18 dBV clipping level
AUX: Designed for use with > / - 10k ohms, 1.5k ohms actual, +5dBV clipping level
Gain
Low-Impedance Mic Input (150 ohms): MIC 32dB, LINE 72dB, AUX 60dB - Outputs
Line Input: MIC -9dB, LINE 31dB, AUX 19dB - Outputs
Stereo Input: MIC -5dB, LINE 35dB, AUX 23dB - Outputs
Hum & Noise
Equivalent Input Hum and Noise: -125 dBV (150 ohm source; 22Hz to 22kHz)
Output Hum and Noise: (22 Hz to 22kHz; channel controls full counterclockwise)
Master full counterclockwise -85dBV
Master full clockwise -60dBV
FrequencyResponse
(Ref 1kHz, channel and master controls centered)
MIC/LINE Inputs: 150Hz to 20kHz + / - 2dB
AUX Inputs: 20Hz to 20kHz + / -2dB
Distortion
<0.25% at +4 dBu output level, (through 22Hz -22kHz filter; MIC inout 1 and Master at center, all other controls full counterclockwise)
Controls
Sealed Rotary Potentiometers: MIC 1-2, STEREO 1-3 and MASTER gain controls. BASS and TREBLE control.
DIP Switches
Phantom Power
12 Vdc open-circuit through 680 ohm resistors
Operating Temperature
Operating: -7 to 49 degrees C (20 to 120 degrees F)
Storage: -29 to 74 degrees C (-20 to 165 degrees F)
Power
SCM262: 100 - 120 Vac, 50/60 Hz, 60mA
SCM262E: 220 - 240 Vac, 50/60 Hz, 30mA
Dimensions
1.72 x 8.60 x 6.37 in. (43 x 218 x 162mm)
FREE standard ground shipping on orders over $99 to the 48 contiguous states. See Terms and Conditions for full details and exemptions.
All products are covered by ProAudioSuperstore.com's 30-day Return Policy. See Terms and Conditions for full details and exemptions.
Warranty
New product. Includes standard 1-year manufacturer warranty.