Denon DN-300ZB CD/Media Player with Bluetooth Receiver and AM/FM
Denon
$599.00
$449.00
449.00
The DN-300ZB poly-media player was born for multitasking in the BYOD (Bring Your Own Device) world. Combining the best of disc, wireless, and solid-state media playback, the DN-300ZB is an all-in-one audio player you can count on when the whole room is listening.
SKU DN300Z
Authorized Dealer: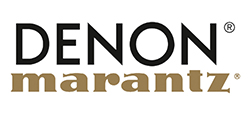 The balanced DN-300ZB Media Player with Bluetooth Receiver & AM/FM Tuner from Denon is an all-in-one audio player that combines the best of disc, wireless, and solid-state media playback, consolidated into a compact 1RU design. It can be used for several applications such as sound reinforcement, schools, music and rehearsal studios, houses of worship, restaurants, and more.
The DN-300ZB features front-loading media slots for CD, USB, and SD/SDHC cards delivering playback of today's mass-storage mediums, and can go wireless with long-range Bluetooth audio connectivity of up to 100' including instant recall of up to 8 devices such as smartphones and tablets. With support for CD-DA, MP3, WAV, and AAC file formats, the DN-300ZB is the BYOD (Bring Your Own Device) player that excels when the unpredictable occurs.
In addition, the front panel's backlit LCD screen provides at-a-glance status of playback modes and provides clear readouts when switching formats on the fly, and controls are grouped together so users won't have to wrestle with deep menus or instruction manuals. Direct access to CD tracks, global transport controls (play/pause/search), and a rotary-push encoder translate to fast, hands-on command when you need to get to your content.
Finally, an IEC-weighted AC power port means no bulky transformers or "wall warts" required and when installed into a rack, the DN-300ZB has the versatility to tackle any playback task from one-off requests to rehearsed program material.
Features
Balanced XLR outputs
Play audio from removable USB/SD/SDHC media
Wireless audio playback from mobile devices via Bluetooth
Up to 33m/100ft Bluetooth wireless range
Super-fast loading slot-in CD player
Plays CD-DA, MP3, WAV, and AAC files
3.5mm (⅛-inch) aux input
AM/FM tuner with dedicated audio out for multi-room use
Power-on-Play mode for automatic playback when powered on
IR controllable with included, compact remote
Lockable front panel prevents interruption
Just 1 rack unit with detachable ears
Performance
Frequency Response
10 Hz to 20 kHz ± 1 dB
I/O Impedance
1/8" / 3.5 mm Aux Input:
10 kOhms
Signal to Noise Ratio
>95 dBA
Max Sample Rate/Resolution
44.1 kHz / 16-Bit
Total Harmonic Distortion (THD)
Bit Rates
32 to 320 kb/s + VBR
Connectivity
Audio Ports
1 x 1/8" / 3.5 mm TRS Input
2 x XLR Output
Supported Bluetooth Profiles
A2DP
AVCTP 1.3
AVRCP 1.0
SPP
Compatibility
Supported Disc Types
CD-DA, CD-R, CD-ROM
Audio File Formats
M4A, MP3, WAV
Max Supported Storage Capacity
2 TB (2 GB File Size)
Supported File Systems
FAT16, FAT32
Supported Audio Codecs
AAC, SBC, aptX
General
AC Input Power
100 to 230 VAC, 50 / 60 Hz
Operating Temperature
41 to 95°F / 5 to 35°C
Operating Humidity
25 to 85%
Dimensions
19.0 x 13.7 x 2.0" / 48.3 x 34.8 x 5.1 cm
FREE standard ground shipping on orders over $99 to the 48 contiguous states. See Terms and Conditions for full details and exemptions.
All products are covered by ProAudioSuperstore.com's 30-day Return Policy. See Terms and Conditions for full details and exemptions.
Warranty
New product. Includes standard 1-year manufacturer warranty.