TOA A-906MK2 (60W) Modular Amplified Mixer
TOA
$767.00
$621.00
621.00
The TOA A906MK2 amplified mixer is widely recognized as an industry standard in installed sound system amplification. When reliability and performance are critical – such as in paging and music distribution for airport, hospital, and industrial sound systems – you can count on TOA 900 Series amplified mixers to perform consistently, day-in and day-out.
SKU A906MK2
Authorized Dealer: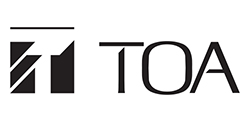 An Industry Leading Amplified Mixer
The TOA A900 Series are modular mixer/amplifiers designed for applications such as paging and music distribution and industrial sound systems. Engineered for high performance, the A-902MK2 (30W), A-906MK2 (60W), and A-912MK2 (120W) have a wide frequency response with very low noise and distortion. These models also feature excellent output regulation.
A900 Series mixer/amps are used in our contracting business all the time. They are perfect when you need lots of inputs, but need to be able to customize and tailor them to meet the demands of the job. This unique modular design makes the A900 Series the most versatile 70V mixer/amplifiers in the industry, period.
Modular Design
Eight module slots allow you to easily configure custom configurations choosing from over fifty TOA plug-in modules with an extensive array of features and connector types. You can increase the input capacity by connecting a second mixer or mixer/amplifier to the rear-panel Bridge In/Out jack. This item requires modules to in order to operate.
Versatile Features
Outputs include transformer isolated 25 V, 70 V and 8 ohm (A-903MK2: 4 ohm) plus a direct low-impedance mode if non-transformer operation is required. Pre-Out/Power-In jacks allow connection of external signal processing between the mixer and amplifier sections.
TOA 900 Series Mixer/Amps Features Include:
Modular Eight Channel Mixer/Amplifiers for paging, background/foreground music distribution and music/messaging-on-hold.
Proven TOA Quality and Reliability
Engineered for High Performance with wide frequency response, very low noise and distortion, and excellent output regulation.
Three Models: A-903MK2 (30 W), A-906MK2 (60 W), A-912MK2 (120 W)
Eight Module Slots accept any combination of TOA plug-in modules for custom system configurations.
25 V, 70 V and 8 Ohm Transformer-Isolated Speaker Outputs with screw terminal connector and protective cover plate (A-903MK2: 4 ohm).
Direct Low-Impedance Output Mode bypasses output transformer.
Dual Mute Bus permits multiple levels of paging priority using optional mute-type modules.
External Mute Terminals for activating mute function with external switch closure.
Remote Master Volume Terminals for control with an external 10k ohm linear-taper potentiometer.
Individual Channel and Master Volume Controls.
Bass/Treble Tone Controls with tone defeat switch.
Low Cut Switch to limit low frequency response.
Auxiliary Output for connecting an external mixer or recording device.
Insert Jacks for connecting external signal processing.
Bridging Input/Output for input expansion or recording device.
Normal, Clip, Power, Protect, and Signal Indicators provide unit status.
Rear Panel AC Convenience Outlet for powering external equipment
Turn-On Delay disconnects output during power-up.
Over-current and Thermal Protection Circuitry prevents potential damage from overload, short-circuit and overheating.
Volume Control Security Knobs Included (4)
Optional Rack-Mount Kit, MB-25B
UL / cUL Listed
Five Year Warranty
---
| | |
| --- | --- |
| | ProAudioSuperstore.com offers the full line of TOA 900 Series I/O Modules for use in compatible TOA amplified mixers. Click the link to the left to see variations. Feel free to Contact Us if you have questions about compatibility or functionality. |
---
Type
8-channel mixer power amplifier
Power Requirement
AC mains, 120 V, 60 Hz
Power Consumption
100 W
Output Power
60 W RMS
Power Band Width
(D) 20 〜 20,000 Hz, 0.5% THD, (T) 50 〜 20,000 Hz, 0.5% THD
Frequency Response
(D) 20 〜 20,000 Hz, ±1 dB
(T) 20 〜 15,000 Hz, ±1 dB, (T) 20 〜 20,000 Hz, +1 dB, -3 dB
T.H.D
0.02% at 1 kHz, rated output
Inputs
Eight Input Ports : Each port accepts any input modules.
One Bridging Input/Output
Input Sensitivity /Impedance
Input Port #1 to #8 : 100 mV/10 kΩ
Bridging Input/Output : 100 mV/3.3 kΩ
Preamp OUT /Power Amp IN
1000 mV into 600 Ω/1000 mV, 10 kΩ
Outputs(T)=Transformer (D)=Direct
Main (T) : 8 Ω, 25 and 70 volts, balanced, Main (D) : 4 Ω, unbalanced
Aux : 10 kΩ, 1 V
Output Regulation(1kHz)
(D) Less than 0.5 dB, no load to full load
(T) Less than 1.0 dB, no load to full load
S/N Ratio(Band Pass 20 〜 20,000 Hz) Tone defeat switch on
Master volume min : 90 dB
Master volume max : 77 dB
Power amplifier only : 105 dB
Tone Controls
Bass : ±10 dB at 100 Hz, Treble : ±10 dB at 10 kHz
Controls
8 Input gain control 1 Master gain control 1 Bass control
1 Treble control 1 Power ON/OFF switch 1 Tone defeat switch
1 Low-Cut switch (60 Hz, 6 dB/octave)
Indicators
1 Power LED, 1 Protect LED, 1 Signal LED, 1 Normal LED, 1 Peak LED
Protection
Self-protection, with AC fuse (inside)
Connectors
Input No.1 to No.8 : Card-edge connector
Bridging, Mixer preamp. output, Power amp. input, Aux output : RCA phono jack
Output : Screw-terminal strip
Mute, Remote VR : Screw-terminal strip
AC outlet : 3-pin grounding type
AC power cord/plug : SJT, 3-prong type
Temperature Range
-10℃ 〜 +60℃ (12゜F 〜 140゜F)
Finish
Black
Dimensions(W×H×D)
420(16.54") × 99.1(3.90") × 358(14.09") mm
Weight
9.6 kg (21.16 lb.)
Accessories
Volume control cover (YA-920)……4
Option
Rack mounting bracket (MB-25B)
FREE standard ground shipping on orders over $99 to the 48 contiguous states. See Terms and Conditions for full details and exemptions.
All products are covered by ProAudioSuperstore.com's 30-day Return Policy. See Terms and Conditions for full details and exemptions.
Warranty
New product. Includes standard 5-year manufacturer warranty.