Shure SCM820 Digital IntelliMix® Automatic Mixer
Shure
$2,202.00
$1,785.00
1785.00
The Shure SCM820 is an 8-channel digital automatic mixer utilizing Shure's IntelliMix® technology. Intellimix® provides several different mixing modes for lots of different applications, all available from a simple browser based interface.
SKU SCM820
Authorized Dealer: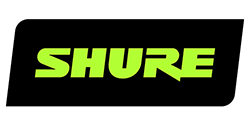 Designed for use in speech applications including sound reinforcement, broadcasting, and recording, the SCM820 uses IntelliMix® technology to dramatically improve audio quality when many channels of microphones need to operate simultaneously.
IntelliMix Technology
Delivers seamless automatic mixing and reduced background noise through dynamic channel gating and attenuation
NAT (Noise Adaptive Threshold) continuously adjusts the activation threshold for opening a channel
Number of Open Microphones Attenuation (NOMA) determines the amount of gain attenuation for a mix output when the number of active microphones changes
Last Mic Lock-On (LMLO) keeps the most recently activated microphone open until another microphone is activated
MaxBus ensures that only one channel is opened per sound source, reducing comb filtering for clear and intelligible speech
IntelliMix Modes offer five different mixer mode presets of reliable automixing styles (Classic, Smooth, Extreme, Custom, or Manual) to quickly tailor the mix for a particular application
Enhanced I/O support for greater application flexibility and digital connectivity
DB25 or logic-enabled block connector models available, each with 8 inputs
Per-channel direct outputs allow the SCM820 to be used as an insert processor
Mix A and B outputs with selectable mic or line level connect to a sound reinforcement system, mixing console, or recording device
Dual mixer operation enables routing of independent automixes to the mix A and B outputs, allowing two entirely different mixes to result from the same set of inputs
Aux inputs on both the front and back panel easily connect to media players
¼" (6.35 mm) stereo headphone output for channel solo and mix monitoring
Comprehensive Control
Channel control knobs allow quick adjustment of gain, limiter, and EQ settings, and solo/mute functions on input channels
Output mix controls and meters enable front-panel master gain and limiter control as well as signal monitoring
LED meter rings display input audio or IntelliMix gain levels for each channel
Browser-based control software delivers comprehensive software control, monitoring, routing, and configuration of all signals and settings and adds a parametric 8-band EQ
Advanced Networking
Standard Ethernet or Dante™ digital networked audio configurations available
Dante-equipped models enable multi-channel audio networking over Ethernet
Dante upgrade card available for standard Ethernet models
Dante virtual soundcard license included to connect a computer to a Dante network for recording, playback, and internet calling between Dante-equipped devices (download Dante virtual soundcard at audinate.com)
Link Dante-equipped SCM820 mixers to form large automixes of up to 12 units (96 channels of audio)
Control system compatible (AMX, Crestron)
Digital Feedback Reduction
Two channels of patented Shure DFR (Digital Feedback Reduction)
Assignable to input channels and mix outputs
Automatic feedback detection and filter deployment
Up to 16 filters per channel
25 Hz to 20 KHz bandwidth
Up to 18 dB gain reduction per filter
Selectable low / high Q filter width (1/40th or 1/70th octave)
"Freeze" feature that locks depth and frequency of existing filters to avoid unwanted automatic changes
Auto-clear on power cycle or timeout that returns filter settings to a pre-defined state for the next event
Ability to save current settings to use later or load preexisting setups
Analog Performance
Channel Input Level Monitoring
Configuration: Active Balanced
Impedance: 5 Kilohms
Clipping Level: Line (-0): +20 dBV, Mic (+26): −6 dBV, Mic (+46): −26 dBV
Phantom Power
48 VDC, Selectable per Channel, 14 mA Maximum
AUX Input
Configuration: Stereo, Unbalanced
Impedance: 10 Kilohms
Clipping Level: +10 dBV
Output Connectors (Analog)
Mix Output
Configuration: Active Balanced
Impedance: 350 Ohms
Clipping Level: Line (±0): +20 dBV, Aux (−20): 0 dBV, Mic (−46): −26 dBV
Output
Direct
Configuration: Impedance Balanced
Impedance: 150 Ohms
Max Output Level: +20 dBV
Headphone Output
1/4" / 6.35 mm TRS, 100 mW, 350 Ohms, Dual Mono (Will Drive Stereo Phones)
Signal Processing
Converter
24-Bit, 48 kHz, 113 dB Dynamic Range Typical
Internal Processing
32-Bit
Latency
Analog to Analog
Single Device: 0.51 ms
In a Link Group: 0.76 + 4TN
Processing
Channel Input: Gain Adjustment Range: −110 to +18 dB
Low Cut: Corner: 25 Hz to 320 Hz, Slope: 12 dB/Octave
High Shelf: Corner: 5 kHz, Slope: 12 dB/Octave, Gain: −18 to +18 dB

Mix Output: Gain Adjustment Range: −110 to +18 dB
Low Shelf: Corner: 25 Hz to 20 kHz, Slope: 12 dB/Octave, Gain: −18 to +18 dB
High Shelf: Corner: 25 Hz to 20 kHz, Slope: 12 dB/Octave, Gain: −18 to +18 dB
6-Band PEQ: 25 Hz to 20 kHz, ±18 dB, Bandwidth: 1/70 to 4 Octaves
Limiter: Ratio: 10:1
Threshold: −50 to −2 dBFS
Attack: 0.1 ms
Decay: 100 ms
FREE standard ground shipping on orders over $99 to the 48 contiguous states. See Terms and Conditions for full details and exemptions.
All products are covered by ProAudioSuperstore.com's 30-day Return Policy. See Terms and Conditions for full details and exemptions.
Warranty
New product. Includes standard 2-year manufacturer warranty.